Fri 25 Sep
13:00 - 15:00
This is a film about a city. Maputo is a young African capital city emerging at the frenetic rhythm of the global financial demand. Some say it's not meant for everyone. People from different backgrounds ...
Read more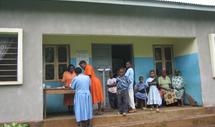 Many experts see the introduction of results based financing (RBF) schemes as an opportunity to strengthen, or even reform, health systems; however, they are also a potential source of new risks and challenges that are not well understood.
Country programmes
Angola - analysis of economic and political developments. Research co-operation with CEIC, Angola.
Sudan - ARUSS: Assisting regional universities in Sudan and South Sudan
Tanzania as a future petro-state: Prospects and challenges. Research co-operation with Repoa, Tanzania.