Women in the market: Equal opportunities?
Microfinance is on the rise in Sub-Saharan Africa. Small scale business may be of great importance to female empowerment, but microentrepreneurs in developing countries face a number of constraints on business growth. In a field experiment from Tanzania, CMI and NHH-researchers Bertil Tungodden and Lars Ivar Oppedal Berge, and Kjetil Bjorvatn from NHH, explore the relative importance of financial and human capital. They ask two basic questions: What works? What does not work? The answers may have implications for microfinance interventions.
Does money matter?
The researchers studied the effect of financial and human capital interventions on a sample of female and male entrepreneurs in Dar Es Salaam. The entrepreneurs were all members of PRIDE, the largest microfinance institution in Tanzania, and were randomly assigned to three different groups. One group was given a business grant, one received business training and one group got both. There was also a control group which did not receive any kind of interventions.
The entrepreneurs were followed up over time, and the results are striking. The business grant had no impact on business performance. Access to financial capital has over the years received a lot of attention from donors and practitioners. Do these results indicate that they have to reconsider their approaches?
-There is an important difference between microfinance in general and providing business grants like we did in this study. While microfinance has certain strings attached for the entrepreneur, there were no conditions connected to the business grant. This may have had an impact on the result. Still, there is less optimism about microfinance than five-ten years ago. Research from a number of countries and different settings have shown mixed results. Microfinance is probably no miracle cure against poverty, says Lars Ivar Oppedal Berge.
The Tanzania study shows that access to education and knowledge are as crucial as access to capital for microfinance to be successful. For male entrepreneurs in particular, the constraints of human capital seem to be more of a barrier than the financial capital constraint.
The gendered mindset
Although the female entrepreneurs did not change their business performance after training, they undoubtedly learnt from it. In a series of tests and lab experiments, the researchers mapped the level of learning. After training, the female entrepreneurs not only scored higher on questions related to running a small business. They also scored higher on tests designed for measuring self-confidence and attitudes to risk. So why did only the male entrepreneurs manage to turn the business training into increased sales?
The tests also revealed that even after training, there was still a difference in mindset when it comes to competitiveness.
-Men and women differ fundamentally in their willingness to compete. Even in Norway, one of the most egalitarian countries in the world, research shows that women are less keen to compete. This could be part of the explanation, says Bertil Tungodden.
The researchers are now looking for more variables to explain the gender difference.
-For example, women frequently have household constraints. Does this have a negative impact on their chances of success? Do men have easier access to networks? This study is still a work in progress, and we are looking for more elaborate answers, says Tungodden.
Perceptions of women's relations to the workplace and home differ across the world, but still share some typical characteristics. In Norway, women are asked how they manage to combine career and family. A man would not often get that question, says Oppedal Berge.
Studies from many different settings, such as Peru and Sri Lanka, are similar to the findings from Tanzania. They all indicate that it is more challenging to promote business development among female entrepreneurs than among male entrepreneurs. Female entrepreneurs face more binding constraints than men. This has implications for microfinance interventions.
-Continuing to add financial and human capital without investigating the deeper, external constraints may be futile. A set of more comprehensive measures are needed to improve business performance and promote development among female entrepreneurs, says Tungodden.
One of these measures could be to provide more knowledge, and the researchers behind the Tanzania study are now working on a project proposal to further investigate the effects of education.
-Participants in the recent study from Tanzania were on average 35 years old. We hope to intervene at an earlier stage and include women that are 16 and 17 years old. Changes in attitude are extremely difficult to attain, but may be crucial to enhance female entrepreneurs chances of success, says Oppedal Berge.
Publication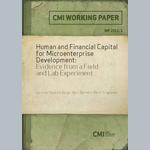 Which is the most binding constraint to microenterprise development, human capital or financial capital? To answer this question, we present the first field experiment that jointly investigates these two constraints...
Bergen: Chr. Michelsen Institute (CMI Working Paper WP 2011: 1) 51 p.