Afghan women's rights activists caught in a crossfire
Afghan women's rights activists are caught in a squeeze between the expectations of Western donors, demands from Islamists and their own ambitions. Advocates fear rejection of all attempts to promote women's rights and are forced to make compromises.
Since the Western-led military intervention in Afghanistan in 2001, women's living conditions in the country has been a recurring theme in Western rhetoric and international media. Violence against women is widespread, and life expectancy and literacy rates among Afghan women compare unfavourably with almost all other countries in the world. Under pressure from Western expectations and demands from conservative Islamist blocks, Afghan women's rights activists try to negotiate women's rights.
Torunn Wimpelmann, researcher at the Chr. Michelsen Institute, recently defended her PhD thesis on gender, violence and politics in contemporary Afghanistan. She used contestations over violence against women as an entry point, in particular the debates surrounding a 2009 decree on the protection of women's rights.
-The controversies surrounding the law proposal illustrates how fragmented the Afghan public sphere is, and why women's rights activists often are forced to compromise, she says.
Balancing on a razor's edge
The law deals with and defined 22 acts of violence against women, like rape, prostitution and forced marriage, and advises prison sentences for several of the acts that are criminalized in the law. It was signed as presidential decree in the summer of 2009, following pressure from women activists and western diplomats who already had fought a conservative family law with limited results.
However, it the law spurred hotheaded debate in Parliament when presented for ratification there. In particular, it was met with strong resistance by the conservative block.
Considering the temperature of the debate in the Afghan Parliament, there was undoubtedly a real danger of the law being rejected and eventually the law was withdrawn from parliament. The women's rights activists opted for this solution, at the price of not being able to voice their arguments in debates that would have been part of a political process. They also lost an opportunity to potentially broaden their support.
-The advocates quickly realized that the debates could end up with a total dismissal of the law. Thus, they decided to settle for a presidential decree, although there is some debate about whether this actually makes the law enforceable in legal terms. This choice of strategy is interesting, and illustrates the squeeze. Women's rights activists must navigate between opposing spheres with conflicting agendas. They are forced to take small steps and settle for the possible. They are constantly forced to take precautions, says Wimpelmann.
Women's activism is intensely politicized in Afghanistan, and gender ideology is often an easy way for certain Afghan actors to demonstrate their credentials as independent from the West. Women's rights activists risk being accused of being pro-Western, hence reducing their chances of being heard.
-The irony is that many of the Afghan actors who reject women's rights as a Western invention, came to power on the back of the Western intervention in 2001, and before that during the Western supported jihad of the 1980s, says Wimpelmann.
Growing openness in Afghan media
Afghanistan also has few traditions for mobilisation through popular women's rights organisations.
-Women's rights activism in Afghanistan has had a very top-down approach, and sometimes international actors have tried fast track a Afghan women's movement through development aid. However the struggle for women's rights needs to be taken one step at a time. A international main priority should be to improve the conditions for women by supporting women's participation in politics and in working life, and education for girls and women, says Wimpelmann.
Still, there is an impressive number of activists based in Afghanistan and the conditions for women's rights activism are changing. The past five years have been characterized by a growing openness on violence against women, and the issue has been discussed in the national media. Much of the debate about women's rights is ultimately linked to the question of women's sexuality and who gets to control it. Violence against women by outsiders is sometimes reduced to a matter of violating the family's honour rather than the women themselves, and marriages are normally for parents and relatives to arrange. However, there seems to be something of a rebellion going on with many young girls running away when engaged against their will, even in the most conservative provinces. The arrival of mobile phones undoubtedly play a role in enabling courtships outside the radar of parents and relatives, although many of these cases do not have a happy outcome.
More generally The idea that violence against women is not a private matter is gaining foothold. There is a growing demand for the government to take responsibility The importance of media coverage and social media should not be underestimated. There have been some changes that look irreversible says Wimpelmann.
Publications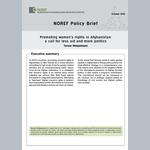 Report in External Series
|
2012
To NATO countries, promoting women's rights in Afghanistan is often framed as a choice between committing to high levels of aid for gender-related activities and an uncompromising public stance vis-à-vis...
NOREF Policy Brief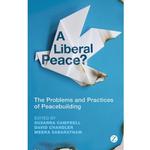 The critique of the Liberal Peace is based on the assumption that Western countries attempt to impose 'their' values and models on war-torn countries. In reality, however, the effects of...
in Susanna Campbell, David Chandler and Meera Sabaratnam, eds.: A liberal peace? The problems and practices of peacebuilding. London, New York: Zed Books pp. 106-120
Project