Translating research to policy advice
The research project Tanzana as a Future Petro-State combines research excellence with dedicated efforts to make new knowledge for practical use. True to this commitment, CMI and Repoa launched the book Governing Petroleum Resources: Prospects and Challenges for Tanzania in Dar-es- Salaam in November.
120 people from the Tanzanian government, the private sector, media, civil society, donor agencies, embassies and academia came to discuss prospects and challenges for governing petroleum resources in Tanzania.
The book is a product of the research and capacity development programme Tanzania as a Future Petro-State: Prospects and Challenges funded by the Royal Embassy of Norway. The project is a collaboration between the Tanzanian think tank, Repoa, the National Bureau of Statistics in Tanzania and CMI and examines a country in action. The main goal of the book is to enhance the understanding of prospects and challenges facing Tanzania with evidence-based policy analysis for the oil and gas sector.
"This book comes at a right time," says Professor and former Governor of the Bank of Tanzania, Benno J Ndulu. "The Government of the United Republic of Tanzania is making concerned efforts to transform its economy and to maximize the benefits of its natural resources to the citizens. It is a great contribution to Tanzania's policy dialogue."
"This is a time of golden opportunity for Tanzania. Translating oil and gas resources into economic development and welfare for all Tanzanians depends on strong and evidence-based policymaking and public debate. It is my sincere hope that this book will be an important contribution to achieving this " said Norwegian Ambassador to Tanzania Elisabeth Jacobsen in her remarks.
"The book exemplifies how academia and the research sector can and should play an important role in providing knowledge-based information into the public debate"
"We targeted our research in areas deemed relevant for informing policy on issues of relevance to policy," said REPOA Director and editor Donald Mmari.
Senior Researcher and editor Odd-Helge Fjeldstad hoped the book would be useful and quoted Professor Sufian Bukurura, Chairman of the Tanzania Petroleum Development Corporation (TPDC) who said that policy decisons informed by research are more likely to succeed.
See interview about the book with Odd-Helge Fjeldstad and Donald Mmari:
Publication

in Odd-Helge Fjeldstad, Donald Mmari and Kendra Dupuy: Governing petroleum resources: Prospects and challenges for Tanzania. Bergen: Chr. Michelsen Institute & REPOA pp. 147-163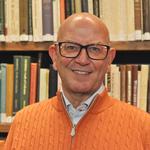 Research Professor, Coordinator: Tax and Public Finance
Project