3 Feb 2011
|
Nefissa Naguib blogs from Cairo:
Sorry for the inconvenience: Rebuilding Egypt
Nefissa Naguib in Cairo
14 February
Egyptians are social networkers by nature. Networking was instrumental in getting Egyptians into the streets, and now to clean up. Saturday and Sunday, after all-night parties, Tahrir Square neighborhoods woke up to sounds of rap and scrubbing. Thousands of young people went out to the streets with gloves, brooms, buckets and trash bags. Citizens were painting over and washing away graffiti from the walls and tanks. Rubbish was separated into organic and non-organic bins. "Mubarak is just one problem," read a text message, "Now we are spring-cleaning the whole system."
The first guidelines have been taken and they are positive steps. The high military council, currently the supreme institution in Egypt, dissolved parliament, suspended the constitution, imposed travel restrictions on several former ministers, instigated reviews on political detainees, and announced that it will remain in charge for six month or until elections take place. There are still elements from the past: emergency law and cabinet. The military command are still talking only to each other. They need to get out of their headquarter and face Egyptian civil society. It did not take leaders to topple one of world´s most autocratic regimes. Driven by solidarity and national pride, the Lotus Revolution pulled order out of chaos. By now the military chiefs know that citizens who took control of their lives and future will know how to do to it again.
10 February
We thought we had a date with history. "Tonight all your demands will be met." The regime lied. Again. Mubarak simply insulted the protesters and Suleiman told us to go home, as if we are children. And now what will the army do?
We have seen an extraordinary display of people power. Revolutionaries have stood their ground despite humiliation and brutality. Slogans and chants all over Egypt memorialize the 300 or so who are killed during the pro-democracy protests. Egyptians see their country as a pivotal pillar in the region and a great civilization. This amazing movement is represented be all ages and all walks of life. But we all know that its the young people, the online activists who have been in the forefront. The revolution takes pride in not having a leader. Diversity, and wide unity against Mubarak and his regime is the strength. We worry about the army. The regime has not yet realized that there is a huge generation gap. Military machismo and politics of the 50s and 60s has no place in the 21st century. Which side will the online generation in the armed forces will turn? Be with us.
9 February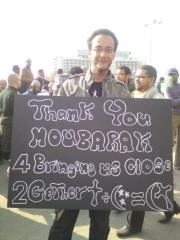 "We have slept in the mud," beaten and imprisoned this young dentist walks to Tahrir every day after work. Why is the 25th of January revolution growing? This is a battle of will. Instead of de-camping, more people are queuing with tents, generators, portable stoves, food, blankets, art and political expressions.
We take a look outside Tahrir. Normally a chaotic city, where people's social life is controlled by security police, Cairo neighborhoods have created their very own local system. In the absence of a functioning government, people offer each other care and security. The stock market is closed, yet Cairo is opened.
Online activists have cleared a space for liberals, leftists, Muslims, and Christians to rebuild a democratic state. " With respect to the people of Yemen and Libya, why should we be compared to them?" asks a young lady from Kharga (oasis in the south). "Why not compare us to the English." The Coptic Patriarch, Shenouda, and Sheikh el Azhar, al-Tayeb, should listen carefully to such statements. They asked us to stay away from Midan El Tahrir. Shenouda and al-Tayeb are respected for their spiritual guidance. We listen to their words on forgiveness, kindness, love, sharing, solidarity and the right for all to live in dignity.
The military have been carefully telling protesters that their message has been heard. That they should resume normal life. "Tahrir is not going anywhere", everybody can come back anytime. They have put up barbed wire around Tahrir and tightened the examination of IDs. Egyptians seek their wisdom and force to protect Egypt.
The tragedy of Egypt is that it has been ruled by the military and by religion. If religious authorities and the military regime take time to visit the art gallery of political expressions that surrounds Tahrir they might begin to understand that we are looking forward.
8 February: Reclaiming Egypt
Egyptians have found their voice and they are using it to reclaim their diversity, intelligence, sophistication, generosity and wit. In the streets and squares of Egypt millions of people demand the removal and trial of the president and his government. We were close to two millions in Tahrir today.
This revolution is real and personal. We all bring something with us: sandwiches, fruits, cakes, water, and medical supplies. Young girls and boys clean. The garbage is labelled National Democratic Party (the ruling regime).
For several Western administrations this revolution is a crises. Ulike the Green revolution in Iran, Lebanese revolt against Syria, and the fall of the Berlin Wall, our rage targets a faithful partner of the West, not an enemy. Clinton called Mubarak 'family', Blair said he is a courageous man, Obama saw him as a friend, the World Bank claimed Egypt a success. When Blair said that transition has to be orderly, and managed - presumably by the West - he echoed other Western leaders concern for 'peace process'.
Responding from orderly Tahrir: We are not in the service of keeping the Middle East subservient to American and Israeli interests.
7 February: The people want to bring down the system
The unthinkable. Egyptians are not discussing football or the neighbors new tv. We pick up bits of conversation about 'the dialogue'. Members of different opposition parties are or are not in dialogue with the Mubarak government. 'Concessions'. A committee has been set up to review the constitution, and a general 15 % pay rise to balance the 50 % rise in food prices. "Civil liberties". The government promises that there will be an end to police control of people's social life. "Rule of law". Enforcements of rights and fundamental changes in the functioning of the courts.
Protesters remain unmoved. Egyptian youth and a massive segment of society have put themselves forward demanding that Mubarak leaves. Until that happens they are going nowhere.
6 February: The day of martyrs
This is a resilient group. Demands and questions are as strong as ever. Near the Cairo museums a 25 year old mother is asking questions that have gone unspoken for as long as she has lived. "Why do 40 % of Egypt's population live under poverty line, while one thousand families control Egypt's wealth?" A mechanic from the Nile Delta wants to know why he was brought up to fear the Muslim Brotherhood.
A group of Copts have gathered to pray. They want to know why Baba Shenouda, the Coptic Patriarch, supports Mubarak. A majority of Muslims surround them, and a boy is asking why it has taken him so long to have a conversation with a Christian.
The prolific psychiatrist and political activist Dr. Okasha notes the army's tighter control at the entrance of Midan Tahrir. Is this military tactics? Retreat, reassemble, attach?
In the meantime an unthinkable meeting is taking place. The government is holding talks with the Muslim Brotherhood. Is this wise?
Back to Tahrir. At 3 pm it is estimated that 1 million people were in the square. Across social classes, generations and religion they are praying for the souls of 300 martyrs. Victims of the worlds first keystroke revolution. Can they hear them?
We see celebrations in the square. A marriage ceremony is under way. With all our heart we wish them freedom and joy.
5 February: Children of the revolution
Midan Tahrirat at dawn. Many have stayed the night. We see men and women of the revolution. They are not moving until Mubarak moves. What strikes us this early morning are the children. Some are here with their families, a parent or a relative. The share a tent or a blanket. There is a cold breeze from the river Nile. What about those very young children who are sitting close to each other trying to keep warm? Who is this 8 year old sleeping on a patch of grass? A man boiling water overhears the question: "this is the shame of Mubarak".
5 February: We are all Khaled Said
Google US has announced that Wail Ghoneim, director of Google in the Middle East and North Africa has disappeared. Goneim, a political activist and the founder of Facebook "Kolena Khaled Said" (We are all Khaled Said), has not been heard of or seen for 9 days.
Khaled Said, a social media activist, had his computer confiscated with pictures of police trading in drugs. Said was beaten to death by two policemen in Alexandria June 2010. "Kholena Khaled Said" is significant in triggering the demonstrations 25.January 2011. Google asks people to call +44 2013078003, or email infowael@google.com with any information about the whereabouts of Goneim.
4 February: Fighting facebook with camels
Two lines into Midan Tahrir. One for families and ladies, the other for men. Into Tahrir our bags are searched and ID checked. Every social class and Egyptian dialect is represented. Young people composing chants, others collecting waste, and mothers feeding their families. But the past days terrible violence is still fresh in people's memory. I see members of the keystroke generation hang what remains of the horse saddles and camel blankets on lampposts. Can't fight Facebook with camels.
4 February: On this day of departure
Friday prayer is one hour away, helecopters are circling above. To spite the tactics of fear we have decided to go to Midan Tahrir. The regime tried to use rumours of chaos. There is nothing close to chaos in the way ordinary Egyptians are towards each other. A warm and sunny day for departure.
3 February: Keystroke baby
What we most feared is happening. Still, the barrier of fear is broken. "The baby is born," says Gameela Ismail, the prolific Egyptian journalist. The whole world watches as the keystroke generation perseveres. They are not leaving Midan Tahrir. We watch and think of the baby. "Will it be a girl? A boy? Breast-feed or powder-milk? How will we raise it? Which school shall we send it to? How about college? That we do not know yet?" But we know that the baby is born.
2 February: Time is on my side.
" He is 82. I am not yet 30. Time is on my side" says a young woman we will call Mona. I met her in a mosque where as she was sewing up a cut on a young man' arm. This is just one of the many makeshift hospitals set up in tents or in mosques. How many are injured? How many are dead? How many have been tortured? and she adds "how many have dissapeared?" She got an offer from a fine hospital in the Gulf. Many times the pay of her job in Cairo. Mona is not going anywhere. In the meantime a buisness personality walks in with his wife. She greets them like old friends. They are regular blood donors. Time is on her side.
1 February 2011: The Lotus Revolution
"30 years of repression, we have finally found our voice and we will keep on demanding our rights," it is estimated that close to two million came to Midan Tahrir. Men, women, children, peasants, city people, rich, poor, educated and illiterate, all waiting patiently as the people´s security searched them and checked their IDs. This is the largest demonstration in the history of Egypt. And as we watch Egyptian children wave the flag atop armored vehicle, people agree that we are watching a revolution in the making. Is it the first social network revolution? What shall we call this epic moment: "Battle for Egypt," "Battle on the Nile," "The Rage of Egypt?" It is the largest political demonstration in the history of Egypt. Of course it is more – it is The Lotus Revolution. Why the Lotus? It is the symbol of rebirth from ancient Egypt the lotus closes at night and in the morning it re-emerges and blooms again.
From CMI's Nefissa Naguib in Cairo. Updated regularly.