16 January 2014 09:00 - 16:30
Land rights, environmental protection and inclusive development in India
Conference Room II India International Centre, 40 Max Mueller Marg, New Delhi
0900 to 0930 REGISTRATION
0930 to 1000 WELCOME
Prof. Siri Gloppen, Project Director and Professor, University of Bergen, Senior researcher CMI
1000 to 1200 PANEL-I Meghalaya and the Sixth Schedule to the Constitution
Chair: Ms. Kavita Navlani Soreide, Post Doctoral Researcher, CMI
Land issues in the North East - Mr. B.G. Verghese, Columnist and Visiting Professor, CPR
Tribal Traditions, Development and Land rights in Meghalaya
Prof. Apurba Baruah, National Fellow, ICSSR
Environment and Sustainable Development in Meghalaya : The Story
from the Roots
Mr. H.H. Mohrmen, Social Activist, Jowai, Meghalaya
Interface between Tribal and Modern
law in the Garo Hills of Meghalaya, Dr. Melvil Pereira, Director, North Eastern Social Research Centre, Guwahati
1200 to 1300 LUNCH BREAK
1300 to 1445 PANEL-II Gujarat and the Fifth Schedule to the
Constitution
Chair: Ms. Namita Wahi, Project Leader and Fellow, CPR
Forest Rights Act, 2006: Impact on Law,
Politics and Economics
Mr. Barun Mitra, Director, Liberty Institute
Status of Land Rights of Tribals in Gujarat - A case for the proper
implementation of the Forest Rights Act
Mr. Ambrish Mehta, Trustee, ARCH Vadodara
Land use, land grab and environment regulation in Mundra, Kutch, Gujarat
Ms. Kanchi Kohli, Independent researcher and writer
and Mr. Bharat Patel, Director, Machhimar Adhikar, Sangharsh Samiti
1445 to 1500 TEA BREAK
1500 to 1700 PANEL-III Andhra Pradesh and the Fifth
Schedule to the Constitution
Chair: Mr. Hugo Stokke, Researcher, CMI
Health of the Hills is Wealth of the Plains
Mr. Ravi Rebbrapragada, Executive Director, Samata
Continuous denial of Land Rights in Scheduled Areas of Andhra Pradesh- A cause for serious concern
Dr. V.N.V.K. Sastry, Social Anthropologist and Senior Consultant
The economics of choice for displaced indigenous land owners in Andhra Pradesh
Prof. Pavan Mamidi, Associate Professor, IIM Ahmedabad
Access to land records and awareness issues, Prof. Sridhar, Information Commissioner, CIC, New Delhi
1700 to 1705 VOTE OF THANKS
Ms. Namita Wahi
Publication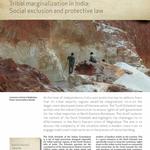 At the time of independence, India used protective law to address fears that its tribal majority regions would be marginalized vis-a-vis the larger, more developed states of the new nation. The 'Sixth...
Bergen: Chr. Michelsen Institute (CMI Brief vol. 12 no. 4, 2nd edition) 4 p.
Project