23 November 2011 09:30 - 12:00
How voluntary is "voluntary return"?
PRIO, Hausmanns gate 7, Oslo
'Voluntary return' has increased dramatically in Norway since 2008, with more than 1000 returnees to Iraq alone. At this seminar we will present a recent evaluation of the return and reintegration programme to Iraq. There will also be a broader discussion of different perspectives on return programmes, post-return reintegration and the sustainability of return.
Program
09:30–10:00 Coffee and breakfast
10:00-11:30 Presentations
Arne Strand, Chr. Michelsen Institute
Ruerd Ruben, Radboud University Nijmegen
Ingvald Bertelsen, NOAS
11:30-12:00 Questions and discussion
Key topics
How voluntary is voluntary return?
How to deal with vulnerable groups?
What does reintegration entail?
Publications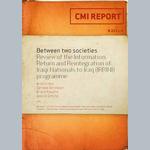 The Information, Return, and Reintegration of Iraqi Nationals to Iraq (IRRINI) programme was established in 2008 by the Norwegian Directorate of Immigration (UDI) to facilitate the voluntary return and reintegration of persons from...
Bergen: Chr. Michelsen Institute (CMI Report R 2011:4) 125 p.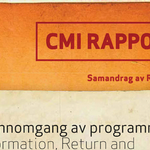 Bergen: Chr. Michelsen Institute (CMI Report R 2011:4)
Projects