23 Oct 2019 CMI Field Note
Fuel, food and embezzled funds: Haiti's year of protests
Port-au-Prince, October 22, 2019
Well-dressed children in spotless school uniforms on their way to school are usually a common sight in Port-au-Prince. However for the past six weeks, the schoolchildren have disappeared from the cityscape in the Haitian capital. Schools have been closed since violent protests erupted earlier this fall demanding the resignation of president Jovenel Moïse. The closing of schools is just one, although a very serious, consequence of the demonstrations that have partly paralyzed Haitian society for more than a year. But why are the Haitians protesting?
Broken promises and growing discontent
The Haitian people are taking to the streets as a reaction to a deteriorating economic situation, a shortage of essentials like fuel and food, and a corrupted government that has proved unable to tackle these challenges. 60 per cent of Haitians live on less than two dollars a day. Inflation is now at 20 per cent, which seriously affects Haitian households. The accusations of president Moïse and other top officials' involvement in the PetroCaribe scandal have further fuelled people's discontent. PetroCaribe is a strategic oil alliance between Venezuela and Haiti that was supposed to generate extra money for Haiti to develop the country's economy. The money was also earmarked to fund highly needed social programs in the impoverished nation. A 600-page report released this spring by the Superior Court of Auditors accused president Moïse of embezzling hundreds of dollars of these government funds. When Moïse was elected in 2017, he called on Haitians to help him get "food on the plates of the people and money in their pockets". Two years later food scarcity remains widespread, and the PetroCaribe accusations suggest that the money ended up in the pockets of Moïse himself and his allies. People are fed up with the corruption that permeates the political system and the mismanagement of the economy. Protesters demand Moïse's resignation, but he refuses to succumb.
Situation at a standstill
The consequences of the unrest are severe. Protesters have attacked courts, and judges cannot get to work, which has led to a complete stop in all judicial activities. 20 people have this far been killed and more than 200 injured after violent clashes with security forces, according to Al Jazeera. Roadblocks and a lack of essential goods are disrupting hospitals, orphanages and emergency services. For weeks now, two million children have not been able to attend school; on October 21 teacher's unions marched in Port-au-Prince, claiming that schools would not re-open before president Moïse resigns. Religious groups and artists are also joining in on the protests.
Moïse was elected to a five-year term in 2017, which means that he still got three more years to go. His supporters call for dialogue and the defence of democratic principles. However, with the protests turning into a national movement demanding his immediate resignation, the situation is coming to a standstill. Who will yield first, Moïse or the protesters?
Field note by Marianne Tøraasen, PhD candidate at CMI
Publication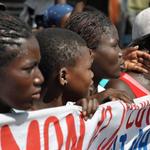 On Sunday afternoon, May 26, more than a thousand Haitians took to the streets of Port-au-Prince, protesting sexual violence and impunity for offenders. The protests were triggered by a horrific...
Project